Here you will find a wide range of recruiting news and rumors related to the University of Memphis and Coach Penny Hardaway's 2022 recruiting class.
I'm starting this post up in late June of 2020 and will put a date stamp each time new information is added.
Other Recruitment Pages
---
Ernest Udeh Jr – 4-star center, 6'10", 230 lbs, Dr. Phillips
8/23/21: The five-star center has received an offer from Memphis.
Yohan Traore – 4-star Forward, 6'10", 225 lbs, Dream City Christian
8/24/21: The 4-star big has received an offer from Memphis. He is a versatile big man with tough on the perimeter and enough guile and handles to get into the paint off the dribble. He holds offers from schools like Gonzaga, OK State, Louisville, and Oregon.
Jalen Duren – 5-star center. Committed and signed with the MEMPHIS TIGERS!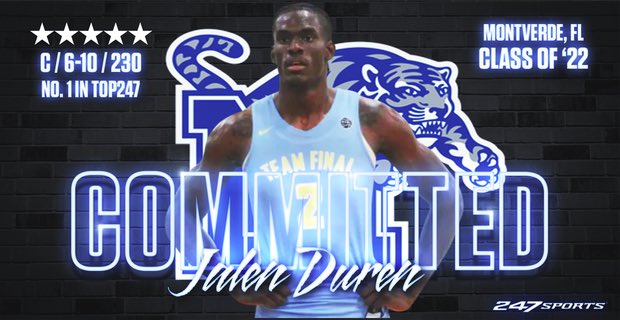 Duren has announced that he is reclassifying to the class of 2021 and has narrowed down his choices to Memphis, Ignite, NBL, and Kentucky. The crystal balls on Rivals.com are turning in favor of the Tigers. His announcement date is Friday 8/6/21.
7/1/21: Jalen Duren passes Emoni Bates as the #1 prospect in the class of 2022, though he is expected to reclassify to 2021. Per 247: "Meanwhile, Duren — who visited Kentucky, Memphis and Miami during June — has simply gotten better and better. Always known for his chiseled frame, graceful athleticism, rebounding and shot blocking, he has improved significantly as an offensive threat who can score and make impressive passes out of the low post. Simply put, Duren's improvement and consistency over the same time has earned him a move to the No. 1 spot."
Per Adam Zagoria, Jalen Duren is expected to reclassify into the class of 2021. He is still being heavily recruited by the G-League in addition to several major colleges like Kentucky, Michigan, and Alabama.
AJ Casey
8/5/21: Casey is a 4-star forward out of Illinois who has cut his list to 8 and it includes Memphis, Gonzaga, Michigan, and Illinois. He cited a relationship with Cody Toppert and the NBA experience of the coaching staff as reasons that he is considering Memphis.
Jalen Hood-Schifino
8/5/21: Hood-Schifino has Memphis in his top five with Texas, Florida, Tennessee, and Indiana.
7/25/21: Miller has received an offer from the Tigers. He is a 5-star SF and the top ranked player in his class in the state of TN.
8/5/21: Rivals.com has given the Tigers a pair of future casts for the #2 player in the class of 2022, who will be reclassifying to 2021.
July 2021: The top player in the class of 2022 has Memphis in his top 8
Justin Morgan
The unranked shooting guard out of Memphis Nighthawk homeschool and Team Thad holds an offer from Memphis as of April 2021.
Solomon Washington
7/24/21: Memphis listed in the top five for Washington. Arkansas, Houston, LSU, and Alabama round out his list.
The three star Team Thad SF out of Louisiana has an offer from Memphis per the Daily Memphian.
Malik Reneau (Florida) – 4-star Forward, 6'8" 210 lbs, Montverde Academy
In an interview with Adam Zagoria, he had this to say about Memphis:
Memphis: "Really the same thing, being a versatile forward that can play inside and outside, being able to do everything. The coaching staff, most of them played or coached in the NBA and it's a pro-style offense so they're showing you a little bit of everything before you get to that type of level."
8/27/21: 2022 four-star Malik Reneau will announce his college decision on Sept. 1st, he tells @On3Recruits.
Top 7: Florida, Memphis, Florida State, Miami, Seton Hall, Arkansas, Indiana.
8/1/21:
The four-star recruit made an official visit to Memphis in June and has the Tigers in his final 7.
7/15/21: Smith picks up an offer from Memphis. He is currently one of the top combo guards in the country and a top-30 prospect. 6'4" 180 lbs. 
12/25/20: Per Tipton Edits, Smith will release his top ten on January 5th. The 4-star shooting guard is ranked as a top 25 player and the #2 shooting guard in this class.
Barry Dunning
7/4/21: Dunning has picked up a crystal ball projection on 247Sports to South Alabama and has postponed his announcement date.
7/2/21: The #74 prospect in the class of '22 out of Alabama has narrowed his top list to Memphis, Alabama, and South Alabama.. The 6'6" small forward is the highest ranked player in the state of Alabama.
DJ Jefferson
6/30/21: The 4-star recruit just completed his official visit to Memphis.
Noah Batchelor
7/4/21: Batchelor announces that he has committed to Memphis and Penny Hardaway! The IMG wing is now listed as a three-star prospect.
6/30/21: The 4-star recruit just completed his official visit to Memphis.
Chandler Jackson
On Memphis: "Just the hometown, they have a great coaching staff and it'd be an honor to play for that staff in front of my friends and family in Memphis."
7/1/21: In updated rankings, Chandler has cracked the top 100 for 247Sports at 56.
Dereck Lively II
7/1/21: Per 247sports: "Seven-footer Dereck Lively II of the Westtown (Pa.) School has made the leap from No. 42 overall all the way up to No. 3 after an impressive spring. He's big, he's athletic, he runs the floor, he has skill, and he protects the rim as well as any big man in America. He's been on a meteoric rise and still looks to have plenty of room take his game even higher." They also call out that his major schools remaining are Duke, Kentucky, UNC, and Penn State.2/16/21: Dereck Lively lists Memphis as one of the schools that he is frequently in touch with. "Recently I have been in contact with North Carolina, Duke, Virginia, Michigan, Florida State, Ohio State, Washington, Memphis and many others like Villanova, Kentucky, USC and Auburn. I have been in contact with many schools," he added.
6/5/21: The 6'6" forward is a borderline top 100 player in the 247Sports composite. He is currently being recruited by Cal-Berkeley, Ohio State, Stanford, Memphis and Villanova per Travis Branham
8/24/20: Smith is a 6'9″ forward at Bull City Prep. He is currently listed as a three star in both the 247 Composite rankings and 247Sports rankings. On the composite he is listed as the #199 player and on 247 he is listed much higher at #45. On 8/24, Smith tweeted out that Penny Hardaway had given him an offer. Smith also holds offers from West Virginia, Arizona, and Duke, to name a few.
Dereck Lively
8/13/20:
6/24/20:
Skyy Clark (Kentucky)
Clark iscommitted Kentucky
8/7/20: Clark releases a list of his final 8, which includes Memphis.
4/14/20: Clark has transferred to Brentwood Academy in central Tennessee.
3/26/20: Clark is a Top-20 sophomore who attends Heritage Christian. The combo guard received an offer in late December from Memphis.
Louis Hutchinson
8/3/20: Hutchinson posts on Twitter with a list of his offers and interested schools.
6/30/20:
6/24/20: Memphis offers class of 2022 IMG Academy guard Louis Hutchinson
Brandon Huntley-Hatfield
8/2/20: According to Stockrisers, Memphis will have a zoom call with Trae Clayton today. He is also meeting virtually with Ohio State. The top 100, 6'5 sophomore SF is listed as a 4-star recruit on 247Sports.
Lee Dort
7/22/20:
Noah Shelby
7/22/20: The 4-star combo guard out of Addison, Tx received an offer from Memphis.
Arterio Morris
Morris has de-committed from Memphis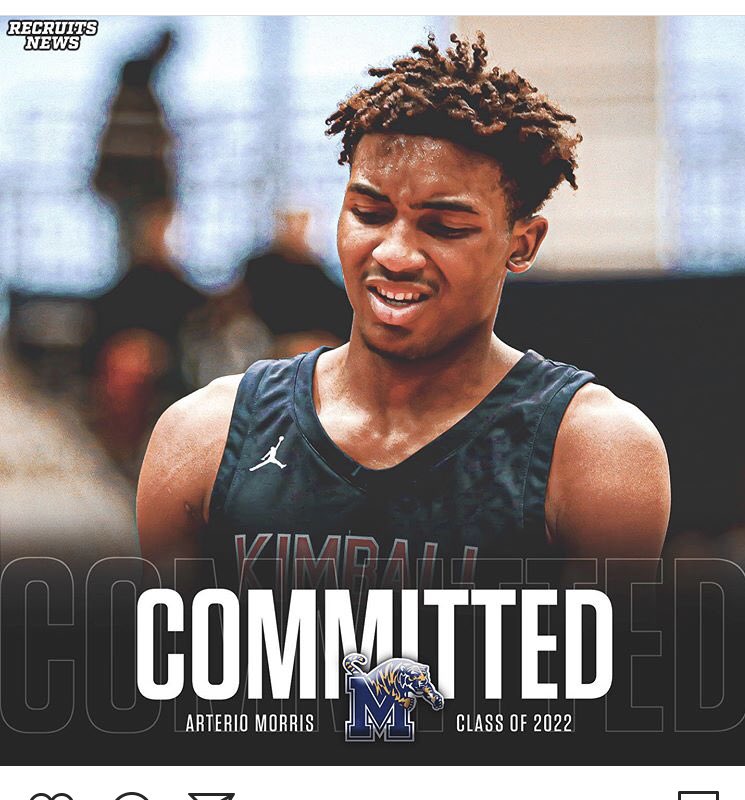 7/21/20: Coach Hardaway reaches into the class of 2022 and picks up his first commitment from 5-star guard Arterio Morris. According to 247Sports, this gives Memphis an early jump on class rankings and puts them at #3 in the country.
Chris Livingston (Kentucky)
6/24/20: Memphis offered on 6/24/20
Dariq Whitehead
6/9/20: According to Christian Fowler of 247Sports, the Tigers have offered the 5-star guard a scholarship. Whitehead is the #14 player in the class of 2022.
Justice Williams
6/9/20: According to Christian Fowler of 247Sports, the Tigers have offered the 5-star guard a scholarship.
Jalen Duren
6/9/20: According to Christian Fowler of 247Sports, the Tigers have offered the 5-star center a scholarship.
Bryce Griggs
4/18/20: Per his Twitter account, @griggs_32, the 4-star top 40 player receive an offer from Memphis. The point guard from Hightower, Texas currently has interest from many regional schools like OK State, Houston, and Kansas,
Chance Westry
3/26/20: The 4-star shooting guard who plays for Trinity is from Harrisburg, PA is 6-4, 190 lbs. He just received an offer from Memphis according to several recruiting sites.