Happy Thanksgiving, everyone! If I was cliche, I'd say something like "Thanksgiving came a day early for the Vols, except instead of turkey, they ate Cardinal." But since I know y'all expect more of us here at the Barn, I won't. Tennessee opened up the NIT Tip-Off in Brooklyn last night with a gutsy 92-81 win over the Louisville Cardinals and first-year coach Chris Mack. 81 is 16 more than the Vols had given up in any other game this season, and it was impressive to see that Tennessee's offense was still able to guide them to what was ultimately a fairly comfortable win margin. Rick Barnes picked up his 665th win, passing the Wizard himself, John Wooden, on the all-time wins list. Does that mean seven titles in a row are also incoming for the Vols?
Let's break down what happened last night and take a look forward to Friday's big match-up with No. 2 Kansas.
What Happened
Defense, whether by design or by bad fortune (I'll go with the latter) was thrown to the wind last night. Other than for one key stretch in the second half, neither team really showed much of an ability to stop the other on offense. This was a new type of challenge for Tennessee who has spent this season, as well as most of last season, winning games by playing shutdown defense and controlling the tempo on both ends of the court. From the start of the game it was apparent this would be a track meet, though, and it was encouraging to see that this version of the Vols can outscore you just as easily as they can shut you down.
Grant Williams and Jordan Bone were hot out of the gate, as usual, scoring 10 of the Vols' first 12. Williams was particularly impressive, totaling 13 points in just 9 minutes as Tennessee took a 26-19 lead and established dominance in the paint. A 11-0 Louisville run, though, gave the Cards a 30-26 lead before an Admiral Schofield three stopped the bleeding. The teams traded blows the rest of the first half with the Vols taking a 45-40 lead to the locker room, with Louisville's output being largely due to 7 first-half three pointers, led by the sharpshooting of Dwayne Sutton.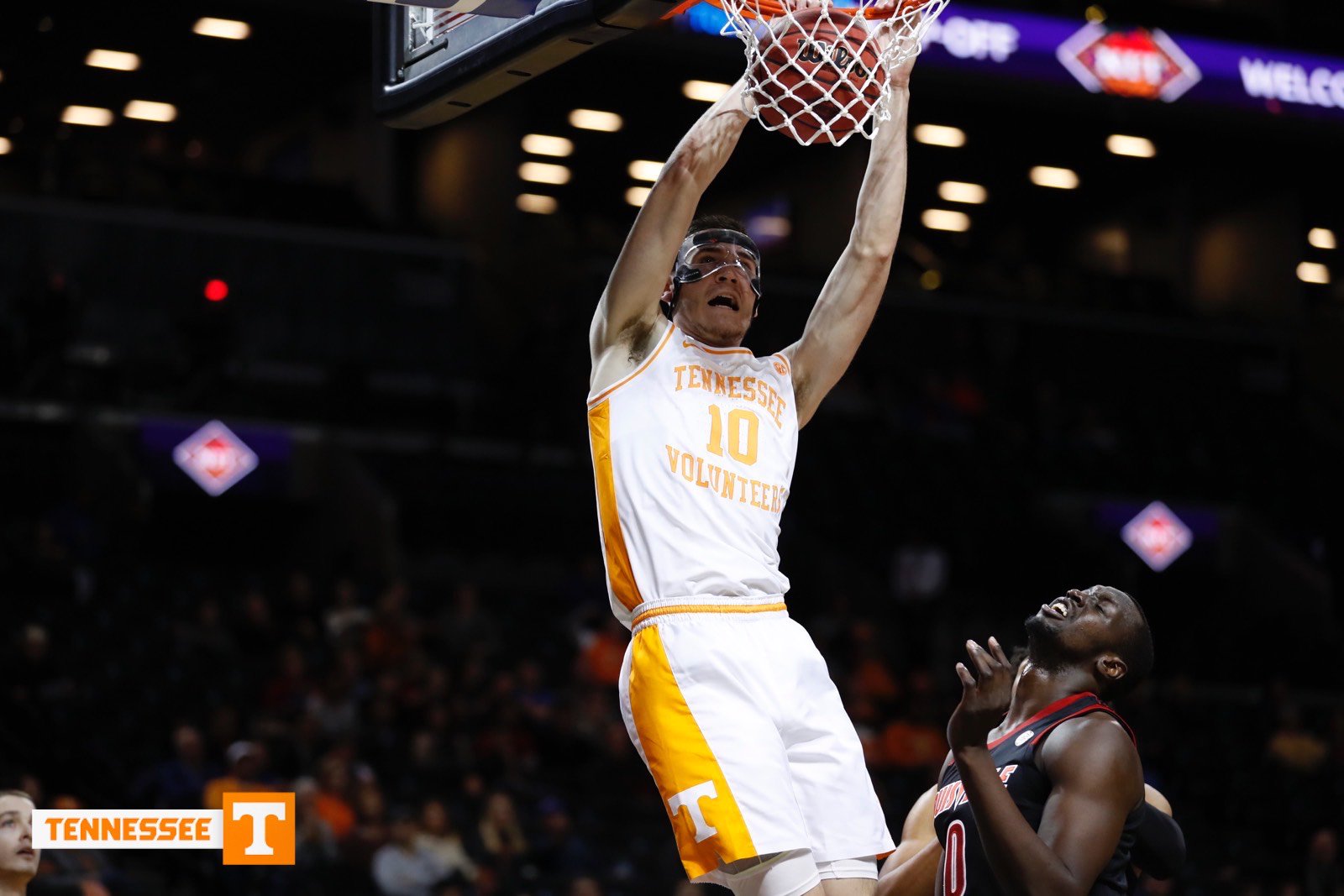 The second half began just as torrid as the first. The Vols opened up in a 2-3 zone which Louisville needed all of about 3 seconds to break, getting sixth-year grad transfer Akoy Agau to the free-throw line. Louisville raced to 23 points in the first 9 minutes of the half, this time behind the production of bench sophomore Jordan Nwora. Nwora and Lamonte Turner traded threes for a stretch and the Cards again tied the game at 63 as both teams continued to torch the net while showing little interest/ability to stop the other. Finally, with the Vols holding a 71-70 lead, Williams was fouled. The Vols proceeded to go on a 14-0 run, taking an 85-70 lead with 5 minutes remaining and sealing the Cardinals' fate.
Grant Williams ended the game with a stuffed stat sheet totaling 24 points, 9 boards, 4 assists, and 3 blocks. Admiral Schofield was not far behind with 20 points, 6 boards, and 4 assists. Three other Vols hit double digits, (Turner had 13, Bone had 11, and John Fulkerson had 11) with Lamonte Turner's bench production in his return being a truly beautiful sight for Tennessee fans. On the Louisville side, Jordan Nwora came off the bench to pour in 23 for the Cards and Dwayne Sutton had 12 on 4-6 shooting from deep.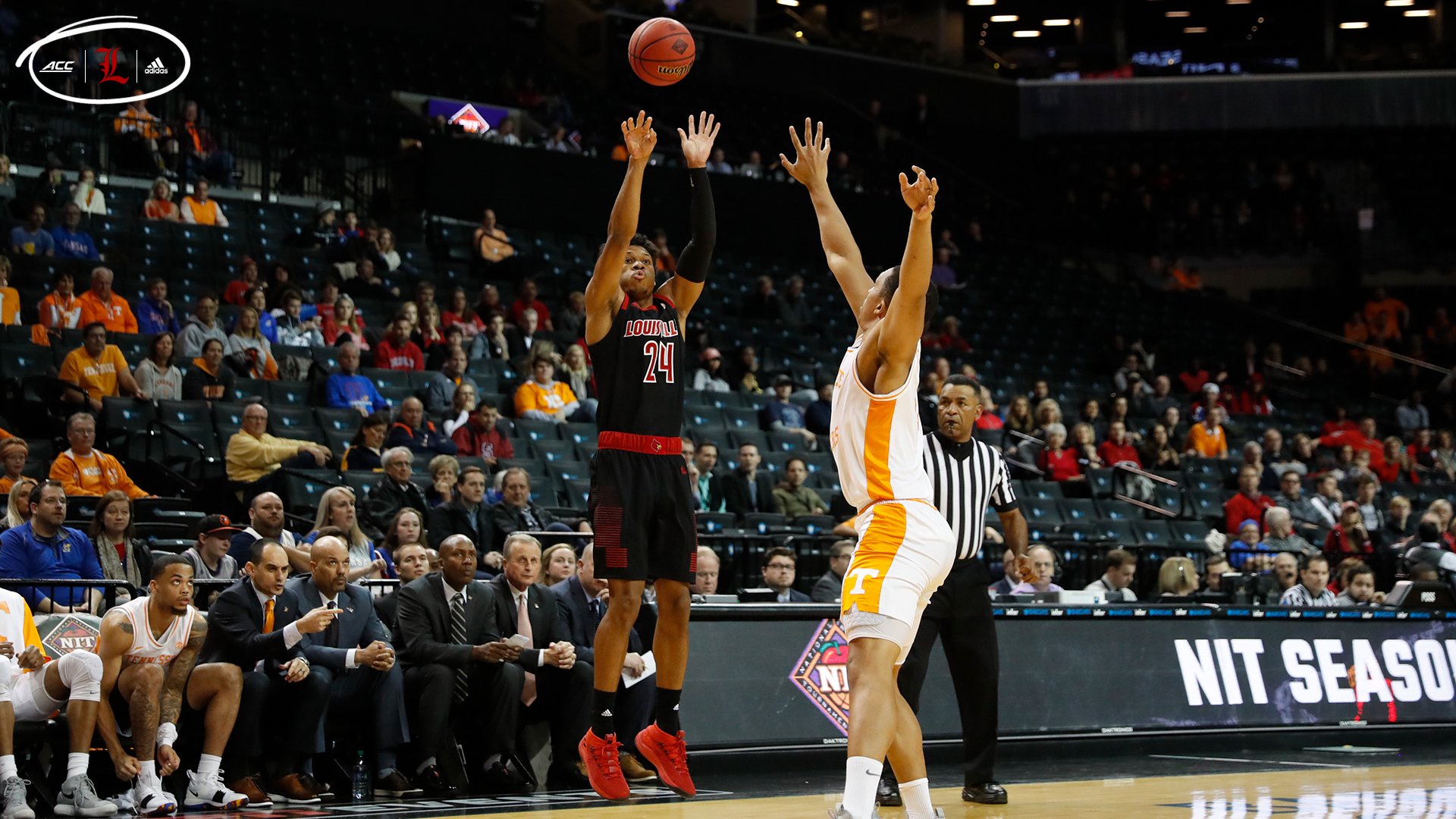 Key Takeaways
Typically, this team giving up 81 points is a cause for concern and, while Barnes probably won't be happy that his team allowed this game to turn into a track meet, he has to be encouraged seeing his team outlast a gutsy performance by a decent opponent due entirely to the offense. With 92 points, it should go without saying, but the Tennessee offense looked as good as it has all season. The Vols shot 54% from the field, largely due to their dominance of the paint on the offensive end, and Williams continued to establish himself as a candidate for National Player of the Year. His ability to create space for himself in the lane is outright amazing and was on full display last night as he made defender after defender disappear with his spacing and positioning.
Not all the credit goes to Williams, though. The Tennessee ball movement particularly struck me, especially in the second half, as four Vols reached 4 assists (Bone, Turner, Williams, Schofield). Schofield in particular had a few beautiful swing passes to Lamonte Turner on consecutive possessions as the Vols battled off the Cards part-way through the second, both resulting in Turner triples. Speaking of Turner, Barnes and Vols' fans alike have to be encouraged by what they saw last night. Tennessee's bench production has been my biggest complaint this season and the return of Lamonte should put those concerns to rest. He passed the ball well, he shot the ball well, and he didn't make nearly as many of his trademark bad decisions as he did last season. You knew the starters could score, and Turner's return (as well as the emergence of Fulkerson this season) gives Tennessee some real scoring threats off the bench now, too.
good to have you back, @LTurn1 🎮 pic.twitter.com/J4PvYSRYrI

— Tennessee Basketball (@Vol_Hoops) November 22, 2018
We've gotta touch on the 81 points here, too, though. Honestly, as I review the game stats, it doesn't look like the defense played terribly. That largely backs up what the live action showed, as well, as Tennessee dominated almost every facet of the game. Louisville did shoot a solid 40% from three while raining in 11 deep balls and they got to the free throw line 25 times, something they have done well all season. The tempo of the game was also not something I would consider slow. Can the Vols play better defense than what we saw last night? Absolutely. Still, I think it's safe to chalk last night's Louisville offensive outburst up to good shooting by a good team and not trash the Vols' defense too badly for it. Chris Mack knows what he's doing so let's give them some credit.
The big question, then, is how do you beat this Tennessee team outside of just being more talented than them? Obviously, anyone can have an off night shooting the ball and anyone can get hot from the field and I am in no way saying we won't drop a few games to inferior teams, but through the first four games it is tough to identify a weakness. If we're shooting poorly, we can still shut you down (see: Georgia Tech). If you get hot, we can still score even more than you can (see: Louisville). This team can win in so many ways, has so many scoring options, and has so many guys that can guard multiple positions that it is hard to imagine a game where someone can find a weakness or a mismatch to exploit. We'll no doubt have a few duds that we can't overcome, but game planning against the Vols this season is a nightmare.
Player of the Game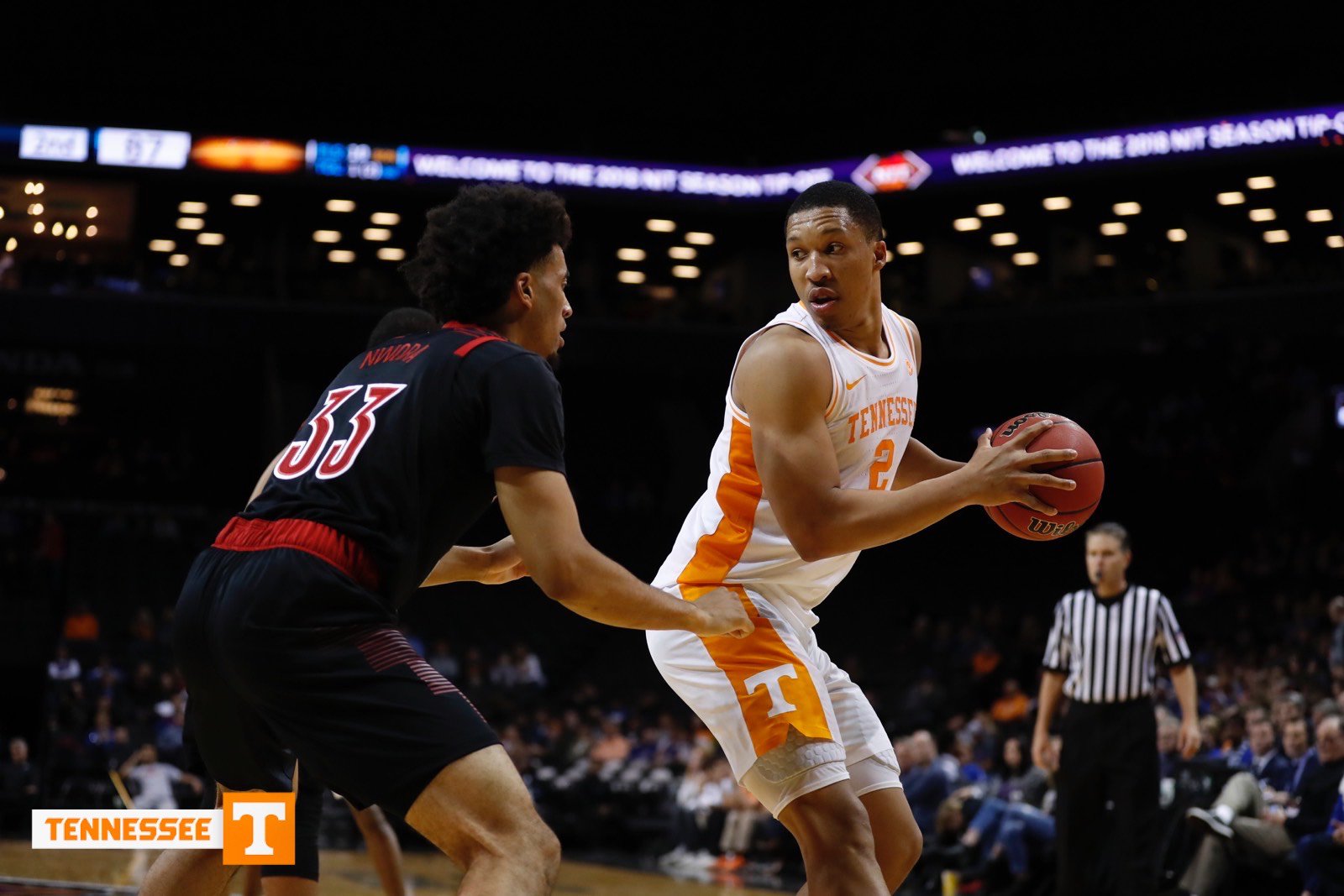 Grant Williams' BarnBurner Recap Player of the Game trophy case is going to be overflowing by the end of the season as I have no choice but to give it to him again. Williams continues to do everything on both ends of the court – scoring points, grabbing boards, getting to the free throw line, and protecting the rim while staying out of foul trouble. His 17 first-half points last night kept the Vols in the lead at halftime while Louisville continued to apply pressure and he was the main reason we were able to dominate the lane on both ends. I learned last night that Williams is averaging 10 forced fouls per game meaning he is essentially fouling out two opposing players each game. It's been over 20 years since the SEC Player of the Year Award was a repeat, but Williams looks on pace to break that streak.
What's Next
Tennessee takes on their first ranked opponent of the season on Friday night in No. 2 Kansas who last night overcame a 9-point halftime deficit to Marquette by going on a 22-0 run to start the second half. Kansas brings a talent level that Tennessee has not seen this season. Junior forward Dedric Lawson is coming off a 26 point, 12 rebound night against Marquette having already posted 20 and 14 against Michigan State. He will prove the first real defensive test for Tennessee's bigs. Fellow Memphian and senior guard Lagerald Vick is averaging 21 per game on an insane 62% from three with two 30 point performances already this season. And that's to say nothing of their projected top-5 draft pick in freshman Quentin Grimes who is averaging 10 points and 4 assists as he finds his place in the offense. One plus for Tennessee? Rick Barnes has beaten Bill Self six times in his career (just ignore the 15 losses). Tennessee doesn't get many opportunities to play in top-5 basketball match-ups, so make sure to pace yourself over the next two days so you don't miss this 9 p.m. tip-off. This is gonna (hopefully) be fun.
Bonus:
Kick your day off right with the greatest Thanksgiving concert of all time.
Have a great holiday break, y'all, and keep checking back for more Vols Hoops coverage over the next few days and the rest of the season.
Like Tennessee basketball? Check back all season for previews, recaps, and other hot takes under our College Hoops tab.
Also like other shit? We've got that too. Check it out by clicking the Home tab.
And don't forget to follow me at @barnburnerziggy and fellow Vols writer Farmer Barn at @farmerbarn.
Cover Photo:
https://www.knoxnews.com/story/sports/college/university-of-tennessee/mens-basketball/2018/11/21/tennessee-vols-basketball-louisville-rick-barnes-nit-season-tipoff-live-stream-watch/2051965002/