This is the third installment in a five-part series previewing the 2018 Memphis Tigers football team by position groups. Today we will focus on the big fellas in the trenches, the offensive and defensive lines.
Listen: Grit 'n Gridiron (Ep.01) Chief and Slim are joined by James Dale of All For Memphis to preview the season
Offensive Line
Let's start with the bad news. The Tigers offensive line lost four-year starter, Gabe Kuhn, to graduation. Kuhn was an All-AAC 1st Team guard, who was as consistent and reliable as they come. He will be missed, but luckily Mike Norvell and OL Coach Ryan Silverfield have recruited quality replacements and depth at the position.
The good news is that the Tigers return 4 starters on the offensive line from an offense that was the most prolific offense in Memphis Football history, with the Tigers finishing 2nd in the FBS Division, averaging over 45 points per game and 4th in total offense averaging 532 yards per game. On their way to these historic numbers, the Tigers o-line also blocked for the first offense in program history to have a 4,000 yard passer, 1,000 yard receiver, and 1,000 yard rusher in the same season.
The 2018 version of the Tigers O-Line is an experienced group at the top, with some potential young studs and more depth than we may have ever seen at this position in program history.
Returning Starters
Trevon Tate, a redshirt senior, started 8 games at right tackle in 2015, before starting 12 and 13 games at left tackle in the following two years. The 3-year starter joined Kuhn on the All-Conference First Team for his role at left tackle, protecting former Tiger QB Riley Ferguson and helping to pave the way for 1,000-yard rusher Darrell Henderson.
Tate has emerged as a vocal leader of this group and will continue to be a key piece to the Tigers success, even though he is being pushed by a redshirt freshman according to Evan Barnes of The Commercial Appeal.
Like Tate, senior Drew Kyser, has also played a major role in the 3 most accomplished offenses in program history ('15,'16,'17). Captain of the o-line, the center has played in all 39 games of his collegiate career including starting 38 of those games. A true iron man, Kyser's role of acclimating starting QB Brady White to the offense will prove to be an integral part of the Tigers offense heading into the season. Kyser has been on the Rimmington Award Watch List each of the past 3 seasons.
Junior Dustin Woodard returns as a 2-year starter at guard who has started all but 2 games since he joined the program in 2016. Roger Joseph joined the Tigers prior to last season as a junior college transfer and started 12 of 13 games at right tackle. Having this type of experience on the offensive line has to be viewed as a positive when trying to acclimate a new QB.
More: Memphis Football Preview: Running Backs & Special Teams
Newcomers
Redshirt freshman Dylan Parham was listed on the Tigers depth chart as the starting left guard. The former tight end seamlessly switched positions during Spring Practice and has earned a starting role in his first full-time season as a lineman.
Another redshirt freshman, Obinna Eze, the Tigers 4-star recruit from last year's recruiting class, has also been making strong impressions over the course of fall camp. He has pushed Tate to enhance his play, but Eze will begin the season behind the seasoned veteran and will provide quality depth as needed.
Others providing depth will be freshman Isaac Ellis at the center position, junior college transfer Manuel Orona-Lopez and sophomore Brytain Petty at guards, and another tight end convert, Scottie Dill rounds out the 2nd team on the depth chart. The combination of experience and depth that this Tigers team has, is exactly what you want in an offensive line.
Defensive Line
Much like the offensive line, the defensive line returns plenty of experienced players due to several injuries to last season's squad early in the season. However, unlike the offensive line, this group was not one of the best in the nation or program history. The 2017 Tigers defense ranked 116th in total defense, 84th in rush yards allowed, and 65th in team sacks. With several guys gaining valuable experience last year, this unit should be much improved from a year ago and I expect them to play with something to prove this season.
Returners
John Tate IV and O'Bryan Goodson are both sophomores who were thrown into the fire early on last year. The two of them split time at nose guard with Tate finishing with 27 tackles and Goodson having 28 of his own to go along with 4 tackles for loss. A year of experience under their belt and another spring/summer in the weight room should have this duo primed to lead the line on the defensive side of the ball.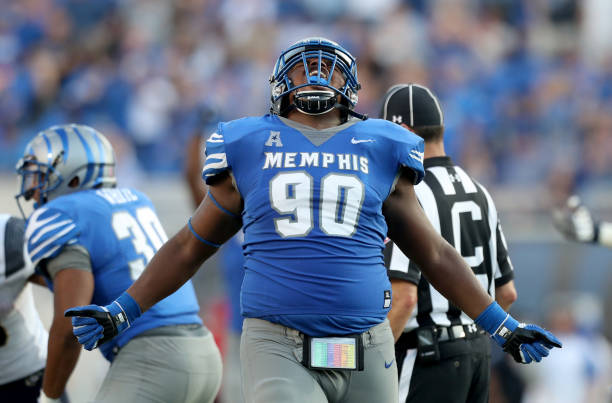 Senior Emmanuel Cooper returns after appearing in 12 of 13 games last season while totaling 27 tackles and 5 TFL. Cooper's best game came against UCLA when he recorded 3 of those tackles for loss, and also forced and recovered a fumble.
Jonathan Wilson will get the nod at the defensive end position after starting 17 games over the past 2 years. The junior recorded 2 sacks last year, but I expected more from him. With Jackson Dillon back in action to help him attack the opposing quarterback, I'm looking for Wilson to have a breakout year.
More: Memphis Football Preview: Quarterbacks
Joseph Dorceus returns for his sophomore year on the field, after playing in 11 games and recording 5 tackles for loss last year. The younger brother of former Tiger RB Doroland Dorceus was surprised by Mike Norvell with a scholarship earlier in the year, and JoJo has generated a lot of buzz around camp. He may be a bit smaller than some of the other lineman, but this dude can get after it.
Because of your generous support to @MemphisTSF … @Coach_Norvell awarded a scholarship to a deserving young man, Joseph Dorceus #GoTigersGo pic.twitter.com/1HCe0c5tyR

— Memphis Tigers (@TigersAthletics) May 8, 2018
Khalil Johnson also returns after appearing in all 13 games and will spell Cooper at the tackle position.
Newcomers
Braylon Brown, a redshirt freshman from Cordova, was named Co-Defensive Scout Team Player of the Year for 2017 and has the size and skill to become a force at the collegiate level. Corteze Love, freshman from Lausanne, also has the size and has shown glimpses of being a valuable contributor at some point. Yet another Memphian, junior college transfer, Desmond Hawkins was named to the 2nd-team All-Conference at his Mississippi JUCO and will push for playing time throughout the season.
I'll be talking about the games on my Twitter @barnburnerslimand follow The Barn @The_BarnBurner.
MORE: In The Can (Ep.14)- Succession: Lifeboats
{Feature Image: GoTigersGo.Com}